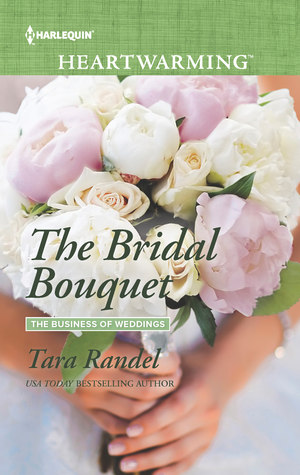 Book : The Bridal Bouquet
Author:Tara Randel
Series: The Business of Weddings #3
Publisher:
Harlequin Heartwarming
Copy: Ecopy sent for Review.
Published Date: 1st June,2016
About the Book
Who will catch a lifetime of love?
Winning the annual wedding bouquet design competition may be the closest Kady Lawrence gets to the altar. She has to come in first or risk losing the shop that's been in her family for generations. Her main competition is Jasmine Matthews. But it's Jasmine's son who's caught Kady's attention.
Kady has no inkling Dylan's a DEA agent on a case in Cypress Pointe, and Dylan wants to keep it that way...until Kady's targeted. Determined to keep her safe, Dylan risks a lot more than blowing his cover...he risks losing Kady forever
Review
The book is about Kady Lawrence, a florist who runs The Lavish Lily in Cypress Pointe in Florida. She has to win the Wedding bouquet competition at the annual florist convention this year, so that she can continue to run the shop thus winning her parents trust that she can take the floral biz to a new height and establish herself in the wedding industry. She's tired of losing to Queen Jasmine since last four years in row in the floral convention.
Dylan Mathews works with DEA and is on a mission in Cypress Pointe, he wants to find Esposa and send him in jail no matter what. Living with his own guilt of losing a friend who saved Dylan while on duty. Kady meet's Dylan in the typical romantic situation where the hero saves the heroine from trying to messup her work, and as for kady she is left dumbstruck by Dylan after it.
Dylan doesn't want Kady to be in trouble so he keeps her in dark about his identity. While somehow he doubts that Kady's brother Will may be involved in the case he is dealing with. Instead he finds something else will is keeping from Kady and his Family. Unknowingly trying to keep Kady safe Dylan falls in love with her and Kady feels the same way for him. A certain situation leads Kady to find the truth about Dylan thus inturn disappointing her. Leading to her and Dylan not being on talking terms.
The book is a clean romance novel and can be read as a stand-alone book as well. The book depicts the usual boy meets a girl and falls in love, the story though is a simple read for anyone who loves romance novels.
Rating: 3.5/5*
About the Author
Tara Randel
is an award-winning, USA TODAY bestselling author of eleven novels. She is currently working on new stories for Harlequin Heartwarming, as well as books in a new series, Amish Inn Mysteries. Her next Heartwarming, part of The Business of Weddings series, will be released in June 2016. Visit Tara at
www.tararandel.com
. Like her on Facebook at
Tara Randel Books
.
Tour Giveaway:
ONE WINNER will receive a tote bag including the first
three books in The Business of Weddings series (US only)
ONE WINNER will recieve a $25 Amazon eGift card (open internationally)
Ends June 24th
a Rafflecopter giveaway
On Tour with :