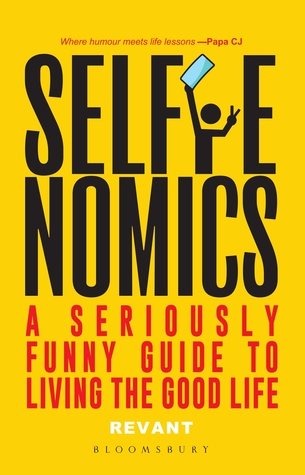 Book Name : Selfienomics: A Seriously Funny Guide to Living the Good Life
Author Name: Revant Himatsingka
Genre:
Personal Development & Self-Help
No of. Pages: 196
Publisher: Bloomsbury India
About the Book:
"Original version of a #selfie: Taking a photo of yourself rather than having someone else take it for you. You try out various filters and select the one that makes you look your best. #Selfienomics version of a #selfie: reflecting on different aspects of your life and taking the initiative to improve so that you can be the best version of yourself."
And so begins Selfienomics, the first Indian self-help book written for young people by a young entrepreneur who speaks their language. Offering workable, practical advise on how to manage finances, start a business, complete creative projects and how to be a better citizen, Selfienomics is so funny, upbeat and entertaining, it's not just a must-read but also a mast-read.
This book is my first attempt at reading non-fiction and I am not at all disappointed with it. Before reading the book I thought non-fiction was so not my genre to read, things have definitely taken a U –turn after finishing 'Selfienomics'. The book is a complete package of humour, life lessons and small aspects in life that we unknowingly ignore.
This book is for everyone and anyone who reads and that's the best part about 'Selfienomics'. It's not for a specific target audience; it has something for everyone out there. The lessons that I learned from this book are definitely worth sharing. The author at one point says if something is too big, it loses its importance. This is so true, everyone has experienced at some point in their life that the one thing that was too big for them was not important the moment it became yours. There was a point in my life when money was my top priority now that has been permanently replaced by happiness. Money definitely holds some place, but more than a anything I prefer happiness and now I tend to do the things that keep me happy. Earlier when I started working my whole routine was work-sleep-eat-sleep-work, now I tend to spend time reading books in between the breaks in office and when I travel I read on my phone. When back from office I play with my dog, and then Sleep! (I like sleeping OK! :D)
This book has helped me in so many ways and I know it would help you as well, it's worth a try isn't it?
Read this when you are down or confused or in any mood and you won't be disappointed as it would in some way present you the answers that you are looking for.
Thanks to the publisher for sending the review copy. All the opinions in this review are my own and that may differ from your point of view.
Rating: 4/5 *