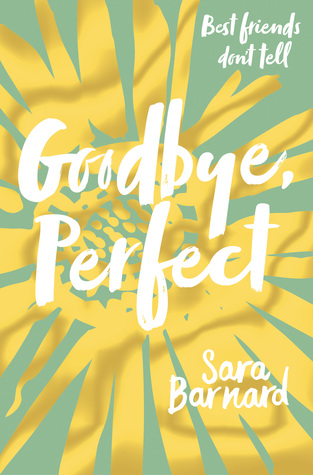 Book Name:
Goodbye,Perfect.
Author :
Sara Barnard.
No. of Pages: 300.
Publisher: Pan Macmillan.
ISBN : 1509852867.
Price: 399 INR.
Eden McKinley knows she can't count on much in this world, but she can depend on Bonnie, her solid, steady, straight-A best friend. So it's a bit of a surprise when Bonnie runs away with the boyfriend Eden knows nothing about five days before the start of their GCSEs.
As the days pass and things begin to unravel, Eden is forced to question everything she thought she knew about the world, her best friend and herself.
Book Review
The book is about Eden McKinley and the various phases she goes through when her best friend Bonnie has Runaway with her boyfriend Jack. The book takes you through Eden's journey as she is dealing with the mess that has been created due to bonnie being rouge and suddenly Eden is the focus of attention as everyone suspects that Bonnie must have confided in Eden about such a drastic decision.
Although Eden knew that Bonnie had a Boyfriend named Jack, and other than this there's nothing that she knows about the guy her best friend is in love with. In a shocking revelation by Police and Bonnie's mother that Bonnie's secret boyfriend is none other than Mr. Jack Cohn, their music teacher.
Though Bonnie informs her whereabouts to Eden, she refuses to tell this information to the police and elders around her as she believes that everyone is against the couple due to their huge age differences as convinced by Bonnie herself. "A promise is a promise and a best friend is a best friend"
Eden is disheartened with such a drastic decision by Bonnie to runaway with Mr. Jack Cohn just before the start of their GCSE's since Bonnie is the girl who lives for the exams and is the head prefect of their school and is a straight A student, unlike Eden who is a rebel and takes the most stupidest and impulse decisions.
Eden unaware of the depth of the matter keeps Bonnie's secret from everyone around her but stumbles on the #bringBonnieback and the news coverage only to discover a different angle than what Bonnie had told her. Now convinced to bring her best friend back starts a journey through which Eden discovers the importance of people around her and learns that not every promise has to be kept. Sometimes you have to do what you have to do even when you are going to lose that one person who matters to you, for what is right for that person.
This book explores so many angles about Eden's life and what make her the person that she is.

The book is about dominance, lost friendships, bad decisions and much more.
Rating:4/5
About the Author
Sara Barnard lives in Brighton and does all her best writing on trains. She loves books, book people and book things. She has been writing ever since she was too small to reach the 'on' switch on the family Amstrad computer. She gets her love of words from her dad, who made sure she always had books
to read and introduced her to the wonders of second-hand book shops at a young age. She is the author of Beautiful Broken Things.
Thanks to the publisher for sending me a copy in exchange of an honest review.