About The Book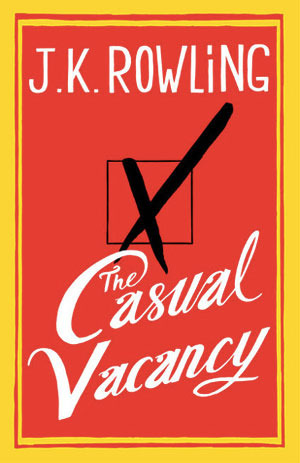 Title:The Casual Vacancy
Author: J.K.Rowling
A BIG NOVEL ABOUT A SMALL TOWN ...
When Barry Fairbrother dies in his early forties, the town of Pagford is left in shock.
Pagford is, seemingly, an English idyll, with a cobbled market square and an ancient abbey, but what lies behind the pretty façade is a town at war.
Rich at war with poor, teenagers at war with their parents, wives at war with their husbands, teachers at war with their pupils ... Pagford is not what it first seems.
And the empty seat left by Barry on the parish council soon becomes the catalyst for the biggest war the town has yet seen. Who will triumph in an election fraught with passion, duplicity and unexpected revelations?
Review
The book starts with the sudden death of Parish Councilor Barry Fairbrother, thus leaving a seat vacant in the council. Soon there's a conflict in the small English village of Pagford for the post of councilor and as expected is followed with dirty politics. Dark secrets are revealed of all the people who are running for the campaign and soon start the turmoil in the elections. Various issues revolve around the novel throughout like heroin addiction, rape and prostitution. The book has various scenes which are inappropriate (in my views) like having sex in a cemetery and disturbing scenes of domestic abuse.
Further events in the book are when "The_ghost_of_BarryFairbrother" account posts mean things about the candidates of the election campaign turns out it's their own children doing so on the council website. First it's Andrew, the son of Simon Price revealing his dad stole a computer from his office, and then its Sukhvinder, daughter of Dr.Parminder Jawanda revealing her mother was in love with Barry. The winning candidate is Howard Mollison's son Miles, Samantha his wife is not happy with him winning the campaign and confesses that she does not know if she is in love with him, but at the end she reconciles.
A majorly highlighted character is Krystal Weedon, a sixteen year old who lives with her drug addicted, prostitute mother Terri and three year old brother Robbie in the "Fields", which is kind of a slum area with all the crime in it. Social worker Kay is determined to stop Terri her use of drugs and takes the responsibility of Robbie but Terri relapses and her drug dealer Obbo rapes Krystal when caught supplying drugs to Terri. In a haste of a decision to start a family Krystal has unprotected sex with Fats in an attempt to get pregnant. It is during one such incident that Robbie runs away to park and drowns in a river when he goes to retrieve his ball from the water, despite Sukhvinder jumping in to save him. Krystal becomes distraught and commits suicide taking heroin overdose herself. The novel ends with the funeral of the Weedon siblings.
The book is disturbing as it gets on your nerves to see people who are capable of being courageous and loyal and with a certain sense of duty towards the society and human beings all together are nothing but selfish and stupid. Also the death of Weedon Siblings is very inappropriate and abrupt, it leaves you disappointed and confused of everything that is meant to progress further. I am not saying that every book should have a perfect ending but it should at least have an ending which makes some sense.